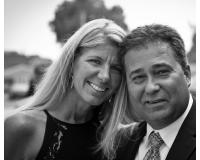 Having spent over six years visiting Marco Island we decided that it was time to invest in our future. With a background in real estate we recognized that the island was a hidden treasure. In 2005, we found the perfect homesite. It had southern exposure just like the beach! The wide water canal overlooked a park like setting and felt like the ideal location for our dream. We have enjoyed making memories with our family and friends over the years on the island. In 2011, Michelle was diagnosed with brain cancer. Everything changes when you are facing your mortality, you realize how precious every moment with your family is. This only magnified our treasured memories made here. By sharing our home with you, we are enabled to keep it.
Why Choose Marco Island
Even prior to our Marco Island Honeymoon in 1993, we spent many wonderful holidays with our parents here. Over the years we watched the property values escalate. In 2005, we found this homesite with southern exposure and a wide water canal overlooking a park like yard. It was the ideal location for our dream .

What makes this House unique

The best thing about our location is that you can walk or bike to most things that you need on the island. You can walk to the Esplanade for shopping, dining, coffee or ice cream. The grocery stores are accessible by boat or land within one mile. You can also take the bike path to local parks or the YMCA. The Tigertail beach is less than 3miles away. A beautiful central location on the island.